Construction Planning for General Contractors
Delays are a persistent problem in the construction industry – without proper software for construction planning and with little project certainty. You need to get your project completed— on time the first time.
Watch a Demo
CONSTRUCTION PLANNING CHALLENGES
Delays are a constant problem in construction–you must meet your deadlines.
Everything Keeps Slipping
Labor shortages, material availability, and rework cause your schedule to slip
Reliable promises are difficult to come by
Hard to Collaborate
Among subcontractors
Between subs and material suppliers
With other stakeholders – owner and architect
No Project Insights
Lack of visibility of problems building on the jobsite

You can't improve what you can't measure

Management can't see cause of delays
Wasted Time… Waiting
Jobsite not ready

Missed handoffs

Rework
Your alternatives look bleak.
ALTERNATIVES
100+ Calls by Lunch
Taking hours to make dozens of phone calls and texts to coordinate between multiple teams, suppliers, and contractors
Multiple Spreadsheets
Hours spent building and communicating Look-Ahead schedules
Working in silos to create and adjust specific spreadsheets
Time in the Office
Walking back and forth to the trailer to review the plan and make adjustments
BEST SOFTWARE FOR CONSTRUCTION PLANNING
There are five main reasons to consider Touchplan:
1. BEST Planning and Daily Recovery
2. BEST Project Data and Analytics
3. MOST Collaborative
4. EASIEST to Use
5. BEST Customer Service
Let's consider each of these reasons in detail.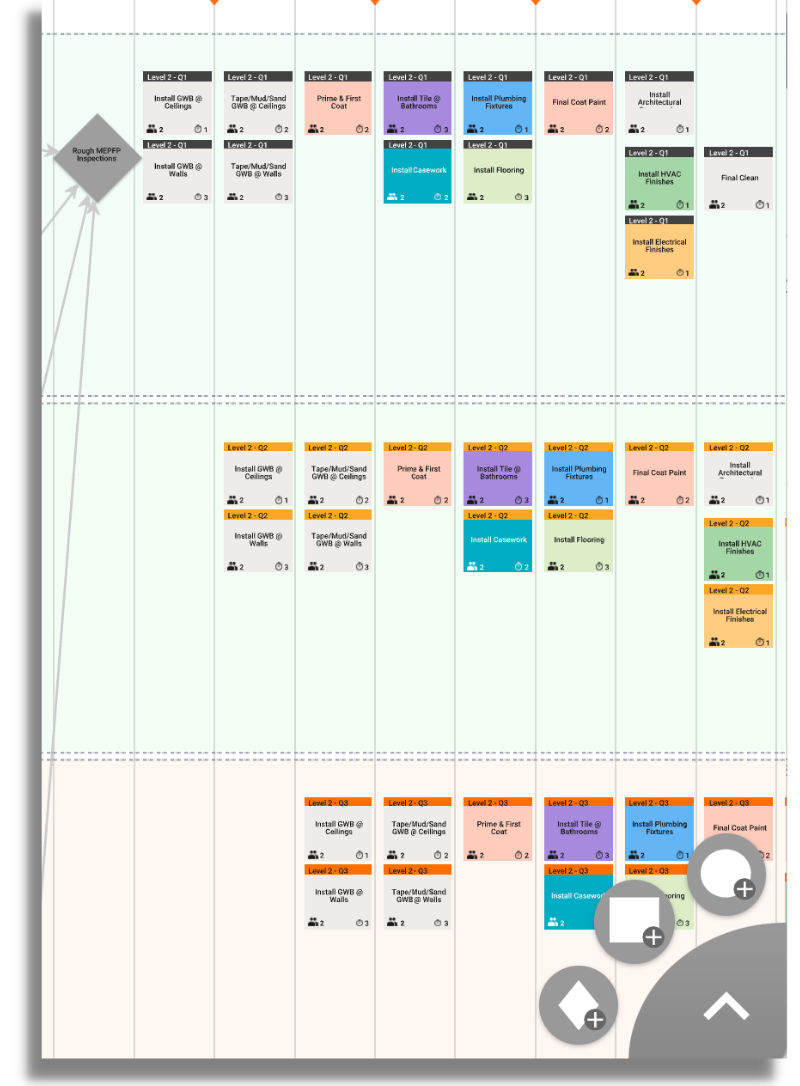 1. BEST CONSTRUCTION PLANNING & DAILY RECOVERY
Touchplan has collaborative pull planning, with weekly work planning, milestone dates and look-aheads.
Digital Pull Planning
Transform your spreadsheets to a collaborative plan
ALL stakeholders are involved in the process and updated in real time on everyone's phone, tablet, or computer
Project templates and bulk ticket functions make it easy to plan and re-plan
Master Schedule Alignment
Align your master schedule easily
View your project plans side by side with your master schedule
Ensure that milestones are reached and that the project is moving forward
Look-Ahead Planning
Create custom Look-Ahead durations instantly
Enable team members to accurately sequence tasks, keeping members aligned, accountable, and deliver on time
Real-Time Updates
Real-time updates for ALL stakeholders are made easier with Touchplan for mobile
Easily view tasks, updates, and the overall plan to stay on track in the field
Variance Reasons
Track reasons why a task was not completed on time
Help you re-plan and proactively adjust on the fly
2. BEST PROJECT DATA & ANALYTICS
Touchplan provides actionable insights to proactively deliver projects faster.
Actionable Insights
Review accurate, real-time project metrics down to the field level
See problems in advance and make timely decisions to avoid future delays (like Waze with traffic jams)
Dashboard Views
View all of your data in a simple visual dashboard
Easily understand project status
Top Performers
Track promises made vs. promises fulfilled
Easily identify which trades/suppliers need attention
Reliable Promising
Calculate a reliable promise date for milestone/project completion
More accurate forecasting to keep projects on or ahead of schedule
Budget and Time Overrun
Track where and how much a project is going over time and budget
3. MOST COLLABORATIVE
Touchplan combines the benefits of pull planning with best-in-class digital collaboration tools – to build better together.
Collaboration Tools
Team members can collaboratively edit, view, and develop daily, weekly, and look-ahead plans
Unlimited Users
Easy enough for everyone on site to use
No per user fee
Mobile Access Anywhere
Users can access Touchplan from anywhere on any device
Team members can modify, change, and view project details remotely from the field
Team Participation Tracking
Display the participation history of team members
Help managers understand performance and to drive improvement
4. EASIEST TO USE
Touchplan's interface "looks like sticky notes," and is the easiest planning tool to use.
Intuitive Look and Feel
Familiar look and feel to planning on a whiteboard with sticky notes to reduce learning curve
No IT Required
If you can use your email, you can use Touchplan
Cloud-based
Enable team members to access projects from anywhere via the Internet
"We started with a rather detailed Excel program, but the challenge was that it became rather complex to use, and only the person who created it knew all of its inner workings."
"Using Touchplan allowed us to identify these issues months ahead of time and adjust our work to keep the project on schedule."
Ready to get in touch?
Whether you have a question about features, demos, pricing or anything else, we're here to help.
If you are logging into a project, do so
here
.