The Risks of Using Spreadsheets to Manage Construction Project Planning (A Webinar Recap)
Get the key takeaways from our webinar on the risks associated with using spreadsheets for construction planning and listen to the full conversation.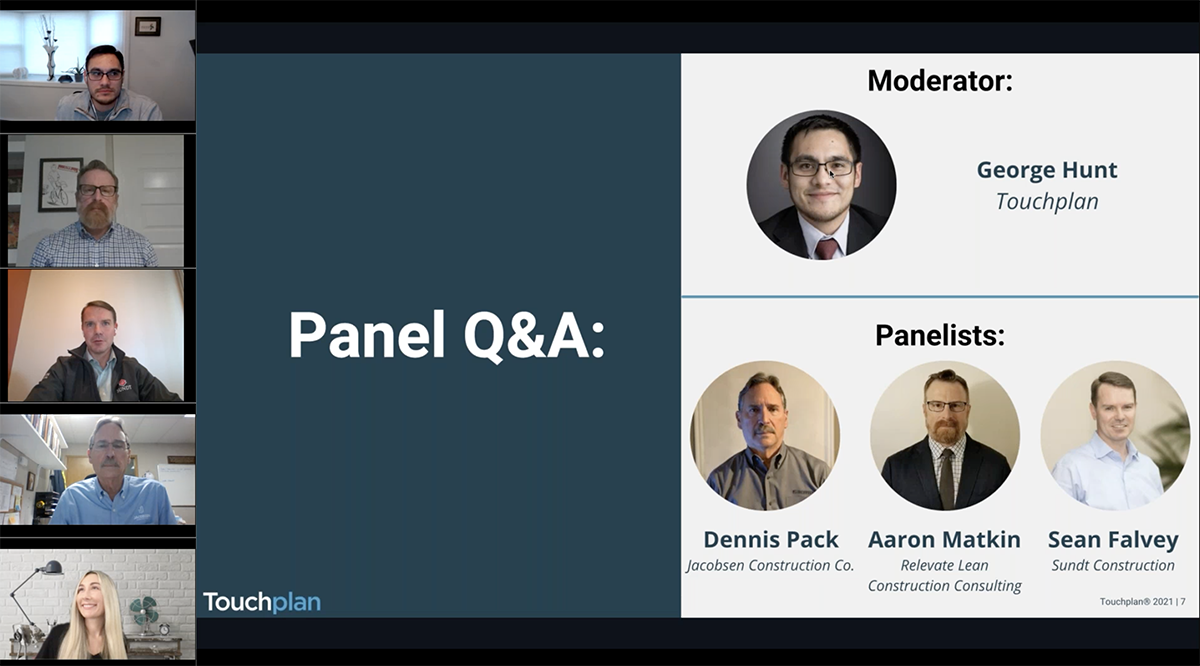 Touchplan recently hosted a webinar discussion on the risks associated with using spreadsheets to manage project planning for construction.
Touchplan's Head of Pre-Sales/Sales Engineering George Hunt was joined by a panel of construction industry experts including Dennis Pack from Jacobsen, Aaron Matkin from Relevate, and Sean Falvey from Sundt Construction.
The team discussed the issues they've experienced when using spreadsheets to manage their pull planning, look-ahead planning, and detailed production planning. They also discussed the transitions they have all made from planning via spreadsheets to using construction planning software.
Some of the key takeaways from the discussion included:
Communication and collaboration have greatly been improved when switching to a digital platform like Touchplan. You didn't have that sort of communication with using spreadsheets and the process becomes much more effective and efficient when you use a tool like Touchplan.
One of the best parts about switching over to a tool like Touchplan is the fact that everyone can see the schedule in real-time. You are not relying on emails being sent or phone calls with updates, everyone has the ability to see where they are on the schedule and get an accurate understanding.
With spreadsheets, there is little to no participation and one person (usually the Super) owns the spreadsheet. The super is the only one who updates it, it's personal, and everyone relies on that person to be there all the time (no sick or vacation days) and to have all the answers of what needs to be done and what has been completed. Touchplan takes the burden off that one person and allows subs, trades, and more to have control over their tasks and update activities themselves. It makes it more efficient in the end.
You can also find some interesting soundbites below:
Get all the details and interesting insights from our outstanding panel by watching the full webinar.