Improving Prefabrication Efficiency – How Manufacturing Processes Can Translate to Construction – A Webinar Recap
Get a recap of our recent webinar that examined the productivity challenges facing the construction industry and what can be learned from manufacturing processes.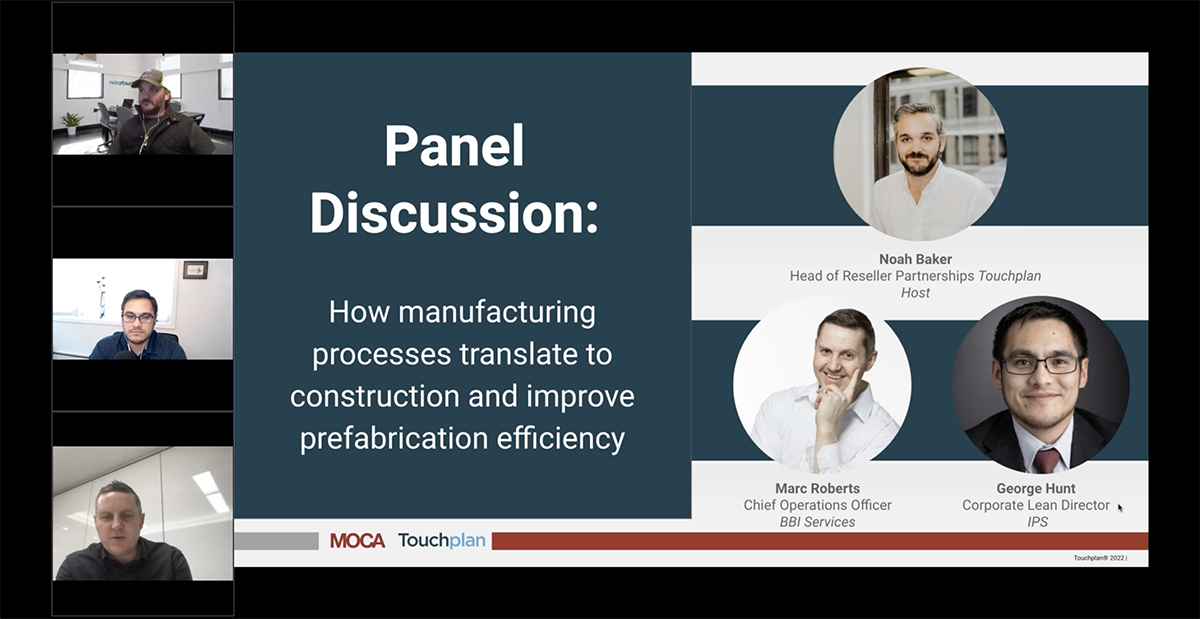 Touchplan recently hosted a webinar that discussed the value of prefabrication and how it can be applied to the construction industry.
Host Noah Baker was joined by Marc Roberts, Chief Operations Officer at BBI Services, and George Hunt, Corporate Lean Director at IPS-Integrated Project Services. The three discussed what can be learned from manufacturing production systems to reduce waste, improve quality, and drive continuous improvement on construction projects.
Here are some of the key takeaways from the webinar:
Collaboration from the start is a critical mindset to have because the tasks involve multiple people. Beyond this, having the designer included from the beginning helps build the plan so that it's ready for construction and eliminates problems earlier, rather than getting to the site and having to re-frame the design and prefab plan.

This efficiency and collaboration can be achieved with a digital solution because you can view tasks in real time wherever you are in the world, and everyone has a visual understanding of what needs to get done.

Owners' buy-in from the very beginning is critical to a successful project. They are your ultimate customer, so keeping them in mind and ensuring they understand the process and telling you they want it to be minimal time and money will help you identify your own process that is both efficient and collaborative.

You can take principles from production and manufacturing and apply it to construction. While there are significant differences, it's really about understanding the variables and that everything is a production process. It's also not about making everything automated; it's about

keeping flow and producing valuable, quality work for the customer

with minimal touch and the highest degree of certainty and confidence. 
We invite you to watch the entire webinar here.