A Look Inside Touchplan's Latest Feature: Image Attach
Product Manager Cory Brennan provides his insight on our new product feature and how it will benefit clients.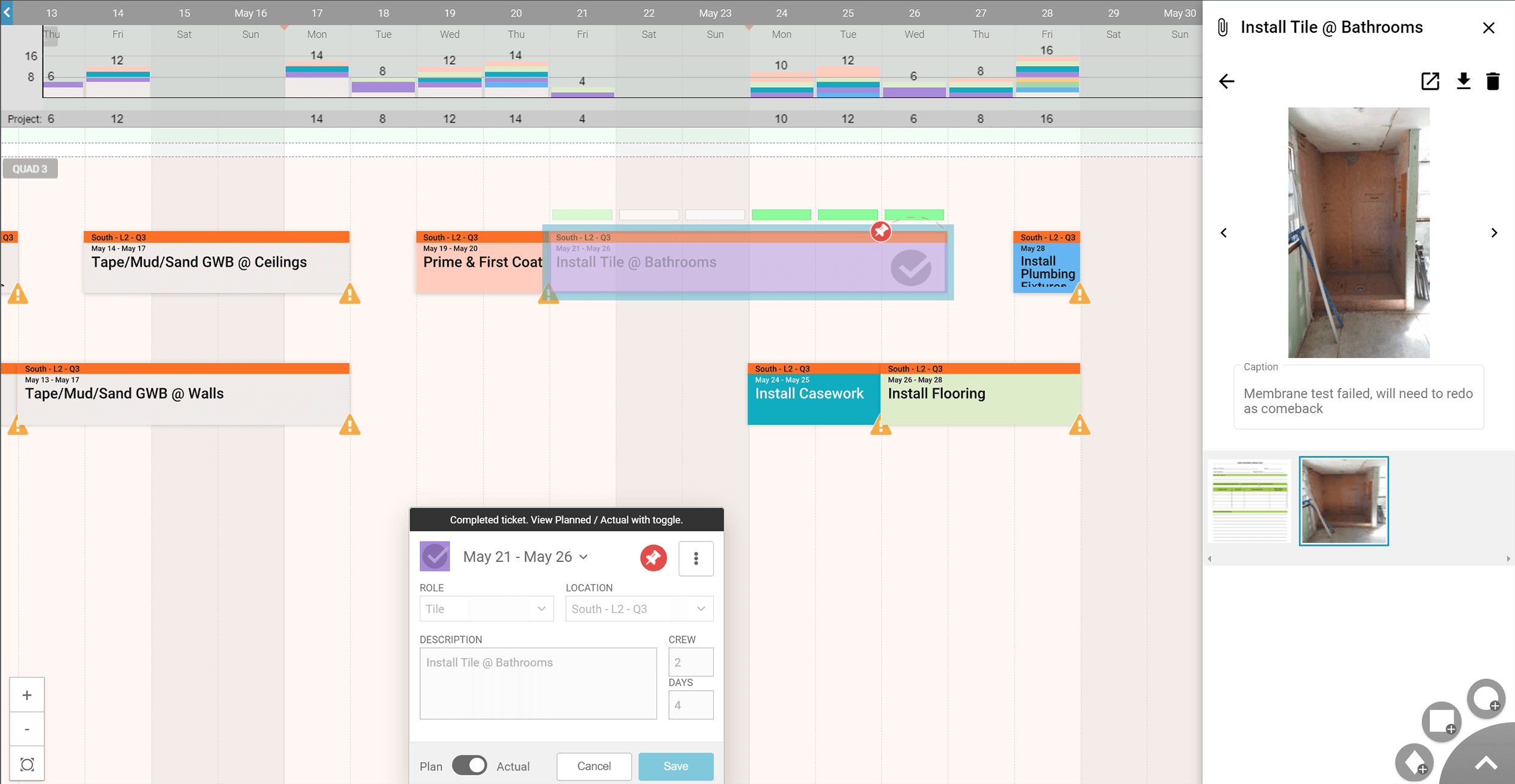 Please give us an overview of Image Attach and the greater value that it will deliver to Touchplan clients?
The Image Attach feature will allow our users to include images on their tickets. Being able to visually see the status of the work that has been put in place gives more information to those that need it. This can be valuable whether you are the superintendent taking pictures of the jobsite during a walk-through, or the project team needing to know the current status of a work front or task.
What was one of your favorite parts of working on this project?
I am very passionate about the benefits of visual representations for the work projects are doing. Having that picture to provide more context to your planning is priceless. That visual can provide important information that a normal conversation would miss, thus helping to get the work done on time without lengthy and costly rework. The worst time to fix an issue with quality is after the job is done.
Who do you see as being the biggest user of this feature; but also discuss how it can benefit all of our clients?
I see Image Attach providing benefits to lots of people on a jobsite and the project as a whole. Project Executives can gain an additional view into the progress of their project outside of our Insights dashboards by checking the milestone ticket images to see how far along that part of the project is. The project management team can gain a better understanding of the finer details of the status of the work, which can help them plan around any issues that they see impacting the project. Superintendents can add images related to the areas they are responsible for in order to capture the installed quality of the work.
Will there be future enhancements to this feature?
We are always looking to improve Touchplan and this feature is no different. Of course, we always welcome input from our users who rely on Touchplan to do their work.
In your opinion why was it important for Touchplan to add this feature?
Image Attach addresses Touchplan's commitment to helping to improve the quality of the work project teams are doing. By providing the ability to attach images to tickets, we are giving the teams using Touchplan more tools to plan, execute, and turn over higher quality work at the end of the day.
How can a feature like Image Attach contribute to the overall growth of the construction industry?
Having a visual representation of a complex problem can make the conversations surrounding it that much easier to resolve. Building something once and building it right the first time will contribute to the quality project teams are striving to achieve.
If you would like to learn more about how image attached works check out these videos; Prepare for Upcoming Work with Image Attach, Place Safety Documentation onto Planned Activities, and Photo Documentation Provides Clarity to Work Status. For a demonstration of Image Attach, please contact our Head of Lead of PreSales/Sales Engineering, George Hunt.