A Look Inside Touchplan's Latest Product Feature – Clickable Hyperlinks
Product Manager Cory Brennan explains how Touchplan's Hyperlinks feature allows users to bring information required to get their job done to their active job tickets.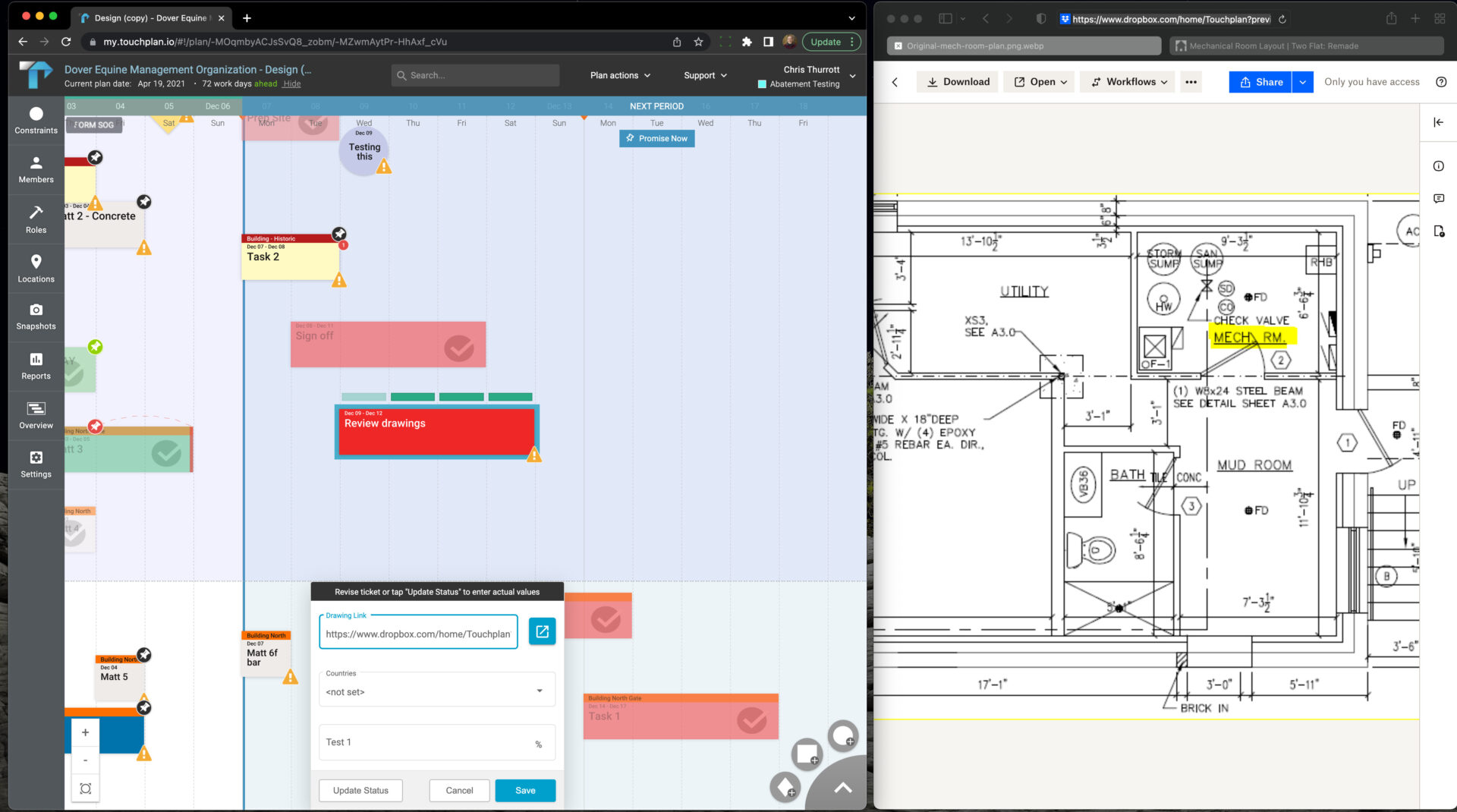 Touchplan recently added a new feature letting users enable integration via hyperlinks within Touchplan's custom fields to direct users to a specific instance in another platform's interface.
We sat down with Product Manager Cory Brennan to learn more about it.
What was the motivation behind creating this feature?
Hyperlinks allow Touchplan users to bring information required to get their job done to the tickets they were working on. The new Link Custom Fields lets the team connect to other systems (from reality capture to document storage) like OpenSpace, Oculo, BitRip, Procore, PlanGrid, Google Drive, Dropbox, StructionSite, FieldChat, or TopDeck with a single click.
How exactly do Clickable Hyperlinks work?
We have added a new Link Custom Field that allows your project members one-click access to external systems via hyperlinks, making it even easier to connect with information wherever it lives.  Add multiple custom fields for hyperlinks to tie back to safety reporting, quality documents, and drawings.  From the field or the office, drop a URL into a ticket and go.
You can quickly jump to visual references, drawings, photos, etc.
If a Touchplan user wants to use this feature, how do they get started?
Admins need to add Link custom fields to their project and set up a list of allowed websites. Learn more here
What will users like the most about this feature?
Being able to more easily pair information from their external systems to their work in Touchplan. The ease of use that Clickable Hyperlinks within Custom Fields offers is essential to our users to get through their planning sessions more quickly and get back out into the field.
Tickets can now be used for planning activities and as complete work packages: link drawings, submittals, and safety reporting tools to keep important information accessible from one place.
Why did Touchplan add this feature now?
This feature is actually an addition to Custom Fields that came from feedback we received from many of our users! We understand how important it is for project teams to minimize the amount of time spent searching for information, which in turn leads to fewer miscommunications.  We are always looking for ways to make our existing features better and more user-friendly.
Let us know what you think about this new type of Custom Field and if you have ideas on how you feel Custom Fields can be even better!