Leverage Technology to Better Manage Your Supply Chain: A Webinar Recap
Get a summary of our recent webinar that discussed how to improve supply chain management via construction technology and collaboration.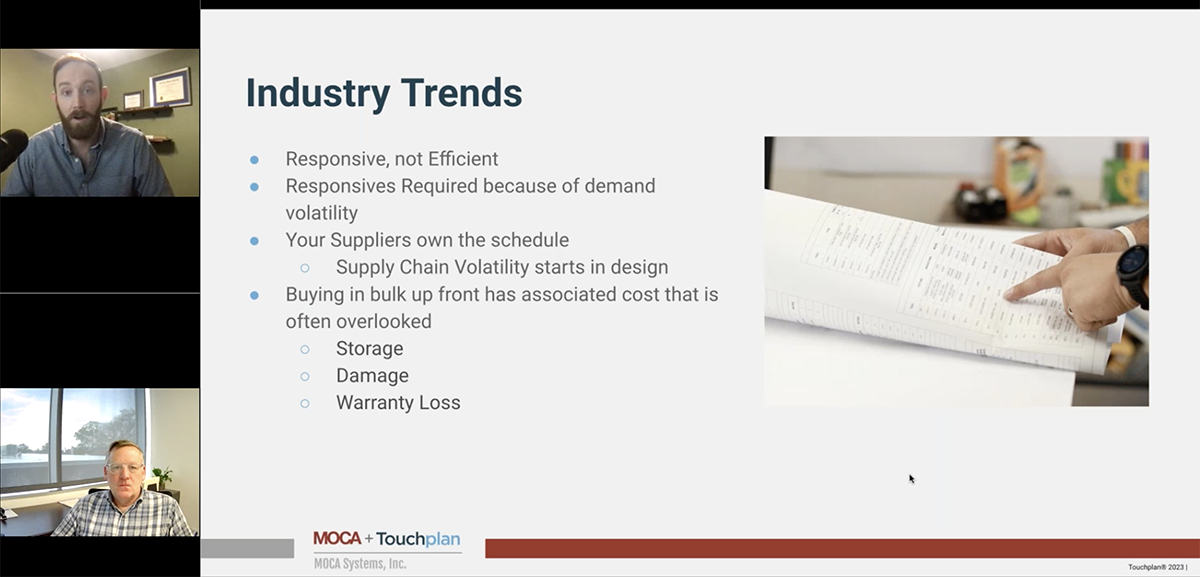 Touchplan recently hosted a webinar that featured our Lead of Strategic Partnerships, Andrew Piland and Jeff Houtz, Supply Chain Leader at TritenIAG.
The two discussed how supply chain initiatives could be improved by leveraging technology and enhancing collaboration.
Some of the key takeaways from the webinar include:
Communication between parties is essential and can save a lot of time but also promote creativity. Communicating with the supply chain managers allows supers, trades, and owners to have transparency on when material will be delivered or what can be done if plans need to pivot.
Planning, particularly using technology, is the most beneficial part of better managing your supply chain. Yes, you can manually use Excel or a pen and paper to plan, but these tech platforms make it so much more integrated end to end and put your fingers exactly on what you need. It also compiles historical data to understand the trends of how teams are/were performing to make realistic decisions and commitments on what they can do moving forward, especially regarding the supply chain.
Understand ownership and expertise. Many supers think they know what to do and feel like they have to put fires out everywhere, but there should be a focus on what you can't control instead of just having emotional reactions to everything that's going wrong. With technology, you can identify the inefficiencies you didn't even know existed previously, and you can also gain more creativity when working with others and focusing on what you can do now. With data, you'll be able to recognize pain points and what can be done.
If you want to watch the entire webinar, you can find it on our website.