Top Stories From September: Construction Projects Around The World, New Touchplan CEO, PPM Blog Series
In this blog, we roundup our content highlights we released in September. Learn more about our podcasts, webinar, e-book, and more below.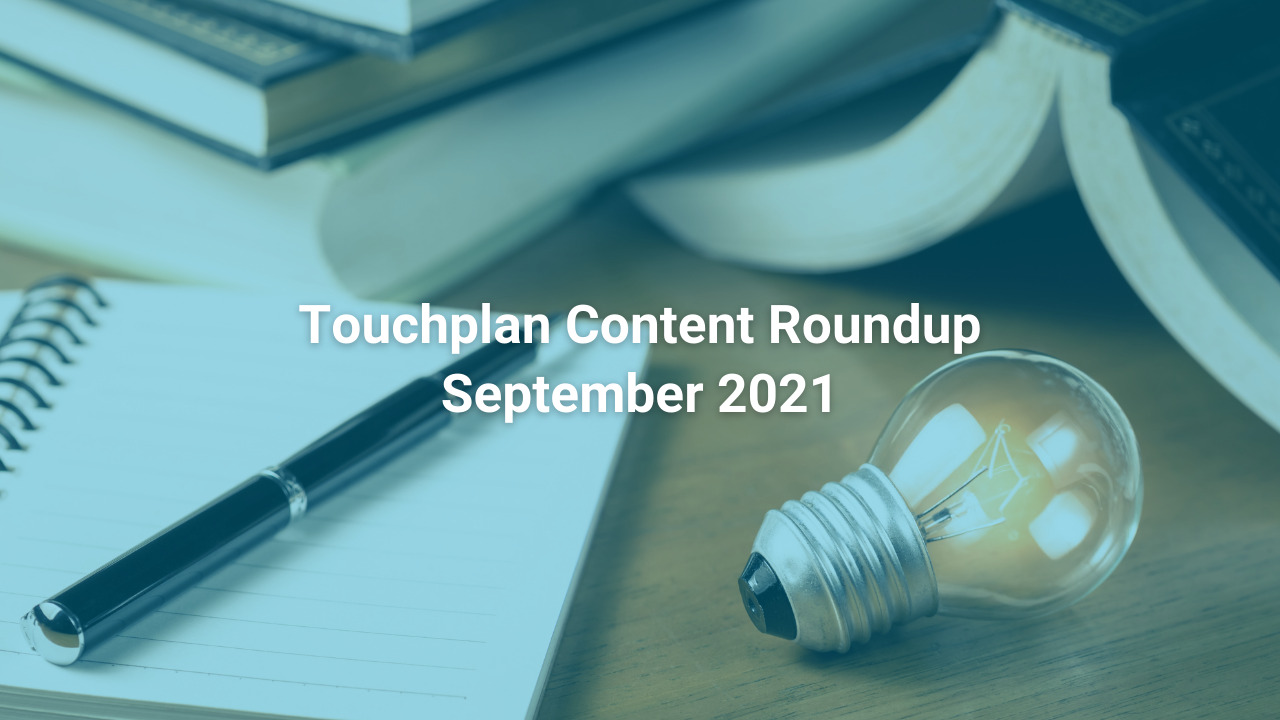 Welcome to Touchplan's content roundup. Here you can find a variety of material that discuss happenings at Touchplan via materials that we have produced over the month of September. Please enjoy!
Construction Projects Around The World
Touchplan is trusted by owners, general contractors, and specialty contractors to help manage schedules and control costs on all types and sizes of construction projects across multiple continents around the world. Check out our new interactive map to see the projects that are using Touchplan across the globe.
MOCA Systems Announces Sandy Hamby as CEO
This month, we proudly announced the appointment of MOCA Systems, Inc & Touchplan's appointment of Sandy Hamby as its chief executive officer. Read the full release on our latest news releases.
Get a Better Understanding of How to Use Touchplan
Dig into different use cases to expand your knowledge of Touchplan, step-by-step with our newly published Solution Notes.
ANDRES Construction Helping to Build a New Downtown Dallas Neighborhood
Touchplan is being utilized by ANDRES Construction to build a new 650,000 SF mixed-use tower that is also building a new Dallas neighborhood. Read more in our latest case study.
New From the Touchplan Podcast Network
Voices of Construction Ep. #4 Talking Lean Construction Down Under
In episode four of Voices of Construction, Noah Baker speaks with Ross Sterland, Director & Co-Founder of Orbiz (Touchplan's strategic partner in Australia), a consulting company in Melbourne, Australia that focuses on Lean practices for construction as well as other industries. They discuss Ross' path from Toyota in the UK to promoting Lean construction and other happenings in the Australia construction market. Give it a listen.
Voices of Construction Ep. #5 Women in Construction
The Touchplan Podcast Network comes together in episode 5 of Voices of Construction. Host of Voices of Construction, Noah Baker, chats with Angela Highland, host of Build. Lead. Succeed. Angela is an amazing woman in construction who has owned her own subcontracting company, and is a mentor to young women looking to build careers. This is a listen that you do not want to miss!
Voices Of Construction Episode #2: Construction Life Across The Pond
In this episode, join Noah Baker as he speaks with Daniel Shakespeare and Umut Duren MEng from Jacobs as they discuss Construction in the UK and the importance of work-life balance as it relates to mental health.
Build. Lead. Succeed. Ep. #2 Annual Conference (pt. 1)
In part one of two episodes, host Angela Highland takes the podcast on the road to the 2021 NAWIC Annual Conference in Charlotte, North Carolina. You'll hear interviews from powerful women including Catherine Schoenenberger, President of Stay Safe Traffic Products, Inc, Ally Jencson, CEO of Frontline Floor Coatings, Cindy Spiropoulos, Safety Director at H. J. High Construction Company, and Riki Lovejoy, President of RFL Consulting Solutions, Inc. Listen here.
Build. Lead. Succeed. Ep. #3 NAWIC Conference (pt. 2)
This episode is part two of the broadcast from the Annual Conference in Charlotte, NC. Host Angela Highland, speaks with three amazing women who are new to NAWIC but not construction. All are senior leaders in their respective companies and also making an impact on the industry. Listen here.
Our Latest Webinars Available To Watch At Your Convenience 
How Operationalizing Your Schedule Can Radically Improve Margins – A Webinar Recap
Get the key takeaways from our webinar on Project Production Management & Listen to the Whole Conversation. If you've got some extra time, watch the on-demand webinar video here.
Extreme Collaboration: Improvisation Meets Planning
In this webinar presentation Andrew Piland explains how superintendents and other construction leaders can facilitate collaboration via the structure of their meeting space, time management, and how to enable construction teams to be the primary speakers while leaders listen. Andrew pulls together insights from Getting to Yes and: The Art of Business Improv, Jazz improvisation for radical collaboration, Lean construction principles, and his own experience on the jobsite to teach construction professionals how to be better leaders. Watch the presentation here.
The Project Production Management Blog Series Continues With Parts 13-15
Project Production Management: Takt for Professional Services (Part 13)
In part 13 of our blog series on Project Production Management, we hear from Touchplan's Lead of PreSales/Sales Engineering George Hunt and Terri Erickson from Kata Consulting. The pair discuss how Takt can also be advantageous for professional service firms as pacing the production of design can have similar benefits to those described for construction.
Project Production Management: Transition from Responsibility to Accountability with Takt Planning (Part 14)
In part 14 of the PPM blog series, George Hunt and Adam Hoots look at how to best take accountability for executing a Takt plan.
Project Production Management: Stop in the Name of Production Management (Part 15)
With the 15th and final part of our blog series on Project Production Management, George Hunt brought the PPM blog series to a crescendo. In his final take, George discusses the value that can be obtained by removing practices as opposed to simply adding new ones.
Subscribe to The Saturday Shift – Your Weekly Source of Industry News & Entertainment 
If you are interested in seeing more updates like the ones above, be sure to sign-up for The Saturday Shift! The Saturday Shift is meant to educate AND entertain you about a variety of topics in and around construction. Its purpose is to make your "weekend shift," whether it is on the jobsite or just doing what you do in your downtime, a little bit more enjoyable.
We hope you enjoyed this September content roundup! We know there are a ton of places to get construction news, blogs, podcasts, and more out there, so we wanted to take the opportunity to say thank you for checking us out.