Top Stories From August: Voices of Construction, 5 Big Ideas and Ditching Sticky Notes
In this blog, we roundup our content highlights we released in August. Learn more about our podcasts, webinar, e-book, and more below.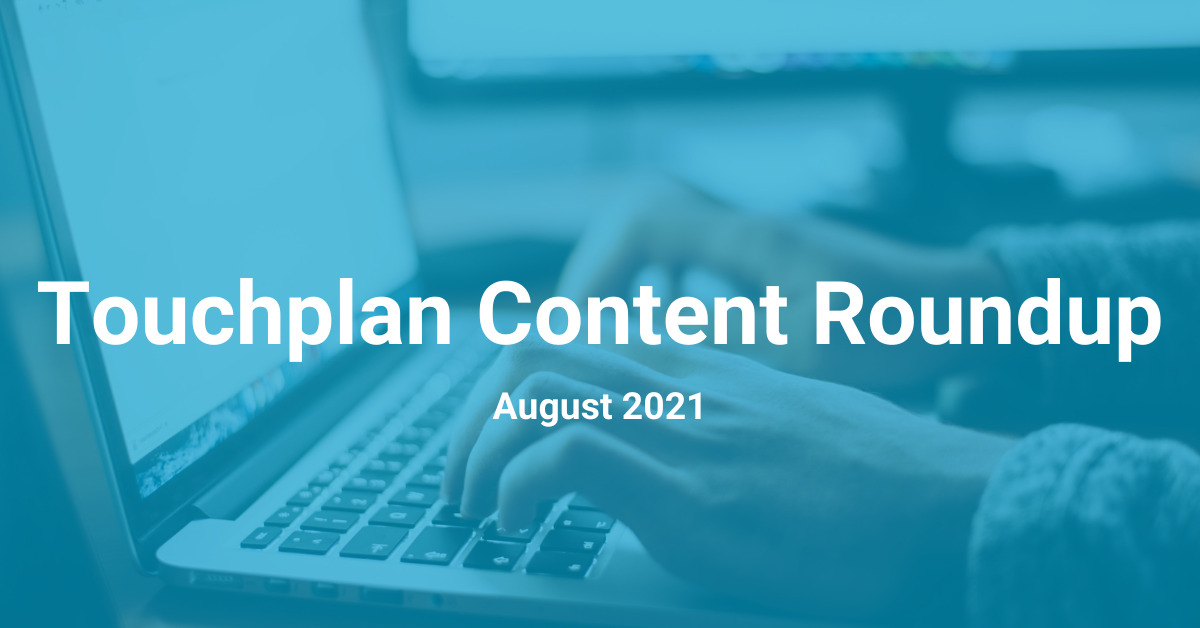 At Touchplan, we are regularly producing a variety of content to inform our readers on what is happening at Touchplan, as well as thought content in and around the construction industry. With that in mind, we have developed this monthly blog post that compiles much of what we compiled over the last thirty days in one convenient place.
We invite you to check out our latest podcasts, videos, blogs, case studies, and our 41-page e-book below!
New From the Touchplan Podcast Network
Voices of Construction Debut Episode: State of the Union
Earlier this month, we debuted The Touchplan Podcast Network and our new show, Voices of Construction. Hosted by Noah Baker, Voices of Construction peels back perceptions and gets to know the passionate people behind the titles in the construction industry.
In episode one, Noah talks to long-time friend and union member, Brian Maguire. Brian talks about his choice to step away from project management to do an apprenticeship and says
"I got more out of everyday work when I was tinkering." Listen to the full episode. 
Build.Lead.Succeed. Debute Episode: Interview With NAWIC President Anne Pfleger
In this first official epsiode episode, host Angela Highland chats with NAWIC national president Anne Pfleger. Anne discusses her path in construction and the difference women are making in the industry. Anne says, "Yes, we're only 10 percent, so we can say we're in a male-populated industry, but we are seeing more women with boots on the ground and seats at the table."
Voices Of Construction Episode #2: Construction Life Across The Pond
In this episode, join Noah Baker as he speaks with Daniel Shakespeare and Umut Duren MEng from Jacobs as they discuss Construction in the UK and the importance of work-life balance as it relates to mental health.
Voices Of Construction Episode #3: Safety & Human Nature
In episode three of Voices of Construction, Noah speaks with Safety Consultant Mike Dickerson & Andrew Piland as they dive into the human nature of safety on the jobsite and the value of buy-in from leadership in the clip below.
Voices of Construction and Build. Lead. Succeed. are available on Apple Podcast, Spotify, and SoundCloud.
Our Latest Webinar Available To Watch At Your Convenience 
Touchplan hosted a webinar on the topic "How Operationalizing Your Schedule Can Radically Improve Margins." You can listen to the recording to hear from George Hunt, CM-Lean, PSP, Patricia Tillmann, Ph.D., CM-Lean from The Boldt Company, Layne Hess from Jacobsen Construction, and Alex Behringer and Evan Franck from The Whiting-Turner Contracting Company. The panel discusses how planning for continuous flow can help teams work efficiently & meet planned milestones.
Touchplan's New Image Attach Feature
This month, we released a new image attach feature that allows users to attach photo documentation to their activity updates, leading to enhanced clarity around the status of the work. Touchplan users can place safety information into planned activities giving them the ability to better plan on the jobsite. Image attach makes it easy to access key information while preparing for upcoming work to make more informed decisions and save time.
Check out our three Image Attach walk-through videos below!
Photo Documentation Provides Clarity to Work Status
Place Safety Documentation onto Planned Activities
Prepare For Upcoming Work with Image Attach
Looking For World-Class Support? Check Out Our Customer Success Video 
The Customer Success Team at Touchplan is here to help onboard and support customer teams and their companies throughout their Touchplan journey. Learn more about our CS team and hear from current customers on their implementation and support experience in this video.
41-Pages on 5 Big Ideas:  E-Book Now Available to Download
Download Touchplan's new e-book based on The Five Big Ideas focused on understanding Lean Construction principles and how the intersection of humans and technology can deliver better results. This report re-examines the components of The Five Big Ideas that help leaders effectively navigate the collaboration of teams, identify opportunities to learn, and create action to design milestone conditions that build the best outcomes of the entire project.
How Did Sundt Construction Finish Six Student Housing Buildings In Time For Fall Semester? 
Touchplan was proud to be utilized by our clients at Sundt Construction as they built Hornet Commons, a new, six-building, student housing project at California State University-Sacramento. The project finished in time for the start of this fall semester and students' return to campus. You can read about the project in our latest case study. Congrats to Sean Falvey, MBA, and the team at Sundt.
Read This Instrumental Blog On Why You Should Ditch Sticky Notes 
In the blog "Structured Noise is Music. Without Structure, It's Just Noise. Make Music, Not Noise," Andrew Piland, is back with why it's time to take the stickies off the wall and plan digitally. To quote Andrew, "Have you ever paid attention to what happens when you introduce a set of drawings on the wall in a pull plan session? People communicate differently." Check out the full post to see how he sets up the jobsite trailer for efficient planning.
The Project Production Management Blog Series Continues With Parts 9-12
Approaching Construction TAKTfully (Part 9)
Part nine of our blog series on Project Production Management is available here. In this post, Touchplan's Lead of PreSales/Sales Engineering, George Hunt, CM-Lean, PSP, looks at some of the nuances and unique scenarios that arise when Takt planning in construction.
Occupied Construction: Moving In With Takt (Part 10)
Check out part 10 of our Project Production Management blog series. In this post, George explains some of the additional challenges that need to be considered when using Takt in an occupied setting.
Turning Around a Project with Takt (Part 11)
In part 11 of the PPM blog series, George continues his discussion about Takt and how it can be used to turn around projects that are already off the rails and have fallen way behind schedule
Coupling Learning with Takt (Part 12)
The PPM series continues with part 12, Coupling Learning with Takt. George talks about the value of pairing Takt with structured improvement cycles (deliberate experimentation) to elevate our construction projects to the next level.
Subscribe to The Saturday Shift – Your Weekly Source of Industry News & Entertainment 
If you are interested in seeing more updates like the ones above, be sure to sign-up for The Saturday Shift! The Saturday Shift is meant to educate AND entertain you about a variety of topics in and around construction. Its purpose is to make your "weekend shift," whether it is on the jobsite or just doing what you do in your downtime, a little bit more enjoyable.
We hope you enjoyed this content roundup and will continue to look to Touchplan as a source of industry entertainment and education. We know there are a ton of places to get construction news, blogs, podcasts, and more out there, so we wanted to take the opportunity to say thank you for checking us out.