Introducing Touchplan Insights: Data and analytics transparency that empower the entire team
Touchplan Insights not only improves the operations of your project, but the integration also gives you astounding insights into financial management.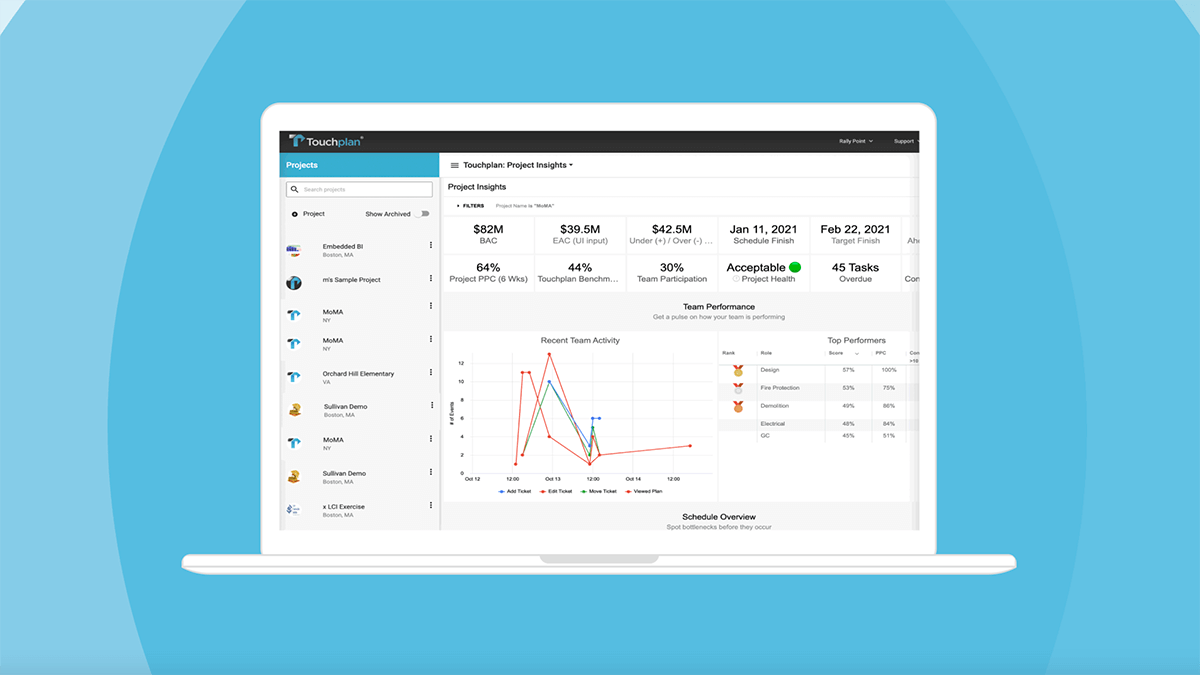 Want daily operations at your fingertips? Touchplan Insights houses the totality of your project portfolio in one place. Our web-based tools sophisticated features surpass all other tech integrations found within construction enterprises – both in terms of scope and mastery.
There are quite a number of software services today that would perform business tasks you need, providing they have all the necessary information to do so. However,  Touchplan Insights brings this close to perfection, with analytical software development that is needed to gain actionable insights that serve as the backbone of future plans. Our software is designed to help people in the construction industry perform specialized tasks with pace and ease.
Touchplan Insights not only improves the operations of your project, but the integration also gives you astounding insights into financial management. Be it a commercial or industrial contractor, corporate owner and government agency, real estate developer and manager, residential builder, or speciality and service construction contractor; Touchplan Insights transparency makes it a valuable tool for all.
Insights Feature is Unique on Its Own!
Touchplan Insights was created to provide a unique-to-you dashboard, giving you control of all your project statistics in one place. These statistics are proven to help with three key features;
Risk Identification – Our sophisticated but simple web-based tool is proven to keep you from harm's way, as it allows you to stay alert and spot bottlenecks from a mile away. It is effective for projects of all sizes: accelerating the process and driving efficiency through informed and collaborative decision making. Your team now knows where to focus its attention and even generate data that can influence future planning.
Transparency Across Projects – Touchplan Insights allows a dashboard view that highlights your entire project to the letter without leaving anything out. This feature creates an environment for enhanced project collaboration, productivity and efficiency for the construction enterprise. It banks on real-time data and industry criterion such that each project is separately analyzed and its performances monitored in a single consolidated perspective.
Exceptional KPI – Key performance indicators are of great importance to any business at large. However, visibility and transparency are what make all the difference. Touchplan Insights key performance indicator model is up front and center. You can analyse its easy to navigate charts, spreadsheets and trend reports to make accurate and ultimately profitable decisions about your project or business. A comparative analysis is a seamless process through this tool; No more being kept in the dark.Now, you can easily assess the key performance indicators that affect your team successes on every project.
With Touchplan Insights, you can now re-frame decision making.