Touchplan's New Master Schedule Alignment Feature – A Product Manager's Perspective
Hear from Sr. Product Manager Mary D'Arrigo about the development of the master schedule alignment and the value it will deliver to clients.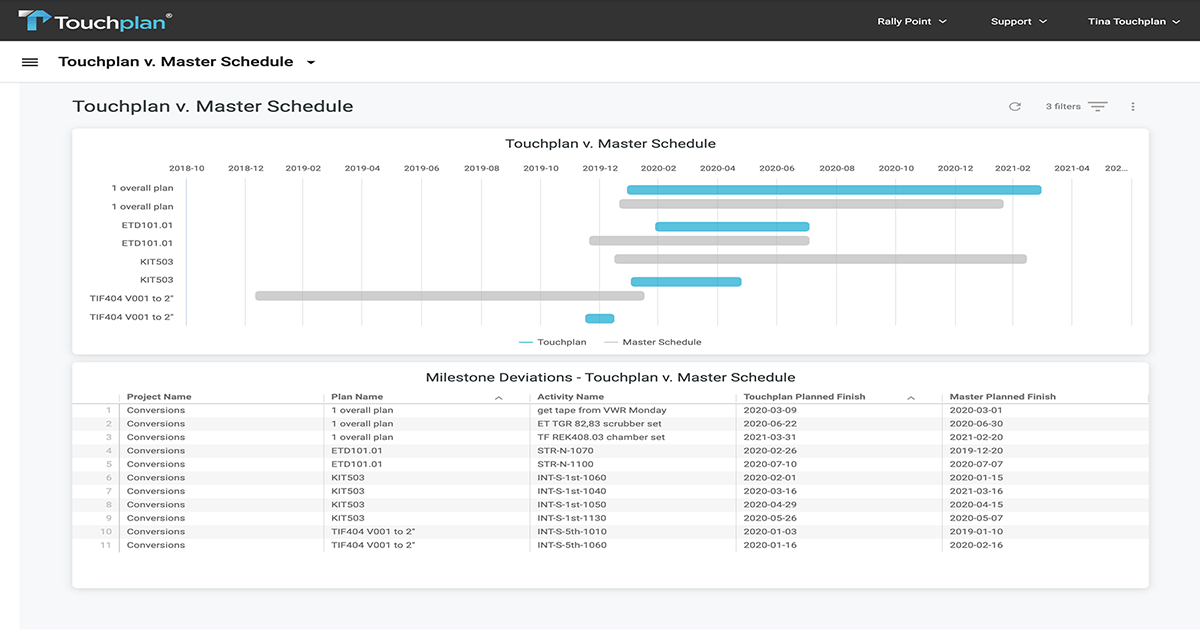 Touchplan's new Master Schedule Alignment product enhancement is a groundbreaking capability that empowers construction teams to vastly improve project performance and profitability by easily aligning their external master schedule with their daily jobsite execution plan. We spoke with senior product manager Mary D'Arrigo who worked on the development of the master schedule alignment to learn more about the value it delivers to clients.
What is one of the more significant values customers will see this new addition to the Touchplan software?
The new Master Schedule Alignment feature will save Touchplan customers a significant amount of time currently spent in attempting to manually gather status updates from the look-ahead plan and match them to the Master Schedule. Some Touchplan customers have told us that they spend between 8-10 hours per month in this effort. 
After the initial manual setup required to identify which Touchplan milestones represent specific master schedule activities, the status updates can be done in under 5 minutes. If the master schedule template is updated with the most current master schedule finish dates each time before the Touchplan process is run, the master schedule end dates will appear on the Insights dashboard. This provides an additional level of transparency to Touchplan users without incurring the cost of an external scheduling tool license or granting access to more sensitive master schedule information.
What was your favorite part of working on this product development feature?
I really enjoyed figuring out a simple technical solution to set up, export, and import Touchplan schedule updates. We wanted to make it easy for experienced scheduling managers to create the schedule template and align it with the Touchplan look-ahead plan without altering the master schedule and quickly see differences.
How do you think Touchplan's Master Schedule Alignment feature contributes to the overall growth of the construction industry?
Being able to quickly identify daily look-ahead plan tasks that are misaligned with the master schedule facilitates Project Managers and Project Executives' timely collaboration with the Superintendents and field trades to make any necessary changes to the schedule or negotiate fieldwork changes to realign the schedules.
Why, in your opinion, was it important for Touchplan to add this product enhancement?
One of the most requested features is master schedule alignment. We wanted to provide an easy-to-use, flexible, and highly configurable feature that would not require additional cost or training.
How much more data will clients be able to analyze from the Master Schedule Alignment feature? 
When the Master Schedule Alignment is executing, not only with Touchplan share production plan finish dates, but we will also gather the Master Schedule finish dates from the template. This master schedule data is available on Insights as well as in the Project and Plan CSV exports.
Does this product enhancement open up opportunities for additional ones related to connectivity between the master schedule and daily field plans?
This is just the first iteration of Touchplan and master schedule alignment. There are so many more exciting things coming in future months so please stay tuned. If you're interested in learning more, please contact us.
If you are interested in learning more about the Master Schedule Alignment feature, watch the webinar on-demand.